Conversational Marketing
Revenue acceleration with conversational and interactive communication in real-time
What is Conversational Marketing?
Conversational marketing is a method of engaging in real-time with website visitors and converting leads through dialogue-driven activities.
It complements and optimizes your inbound marketing strategy and focuses on consumer interaction with a one-to-one approach. This allows companies to increase conversion rates, significantly shorten the sales cycle, and at the same time learn more about their prospects (lead qualification).
With this approach, ideally your marketing efforts are directly connected to the sales team through one platform to provide a fluid and consistent conversation and experience for your visitors.
Conversational Marketing is implemented through tools (such as chatbots, live chats) integrated with your CRM platform (and preferably your Marketing Automation) and offers the possibility to interact in real time through multiple, different channels (emails, videos, chats and meetings).
The goal is to build relationships, establish trust, and make the buying experience as smooth and as easy as possible.
Together with Conversational Sales, Conversational Marketing accelerates the growth and revenue of your business.
How does Conversational Marketing work?
Conversational Marketing complements existing marketing activity and can be explained in 3 simple steps: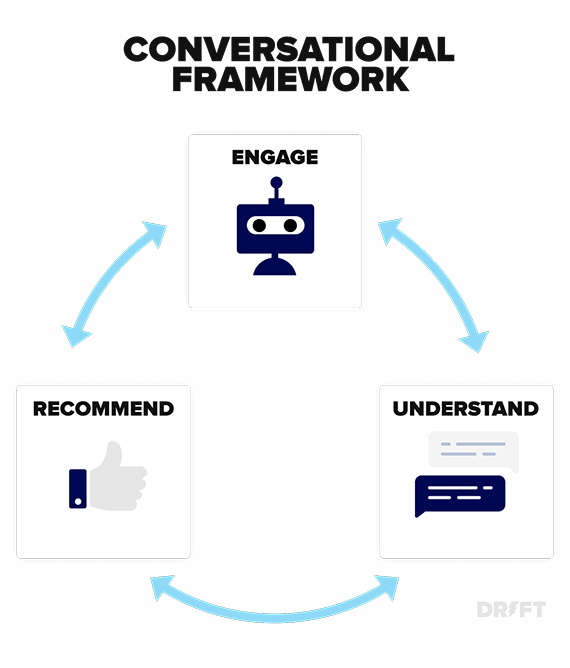 Step 1:Generate quality leads with chats
Conversation through targeted messaging, live chat, and intelligent chatbots to connect with people in a human way. This offers tremendous opportunities for businesses:
Start of conversation on both sides directly on the website
Interested users can get in touch with you a lot more easily
Send targeted and personal messages to visitors
Faster responses and immediate assistance
Route the conversation to the right contact person, or offer meeting scheduling, callback, assets download, blog article...
24/7 and scalable (chatbots)
Human experience, feedback, and knowledge
Happy customer
In this phase, you can convert the right leads faster and also enjoy huge potential in customer support.
Step 2: Better understand leads in less time
To better understand your leads, you need to evaluate and analyze all the interactions, because this is the only way to optimize the conversations.

On one side, this means optimizing the conversation, and on the other side, the content on the website. For example, if the analysis finds that there are the same questions over and over again, then the first priority should be to answer this question on the website.

If done properly and intelligently, chats are human-to-human conversations, happening online.
Step 3: Further recommendations
Depending on the services or products, this step varies. Some leads are ready to buy, while others still need one-to-one interactions, and others still require more information.

In a chat, further recommendations can be given. If a contact person is desired, a link to the appointment calendar can follow for the purpose of a telephone conversation or online meeting. If there is a need for further information, a link can be provided to the appropriate resources.

With the availability of such tools, you can jump much easier into the conversation, and react faster and more efficient.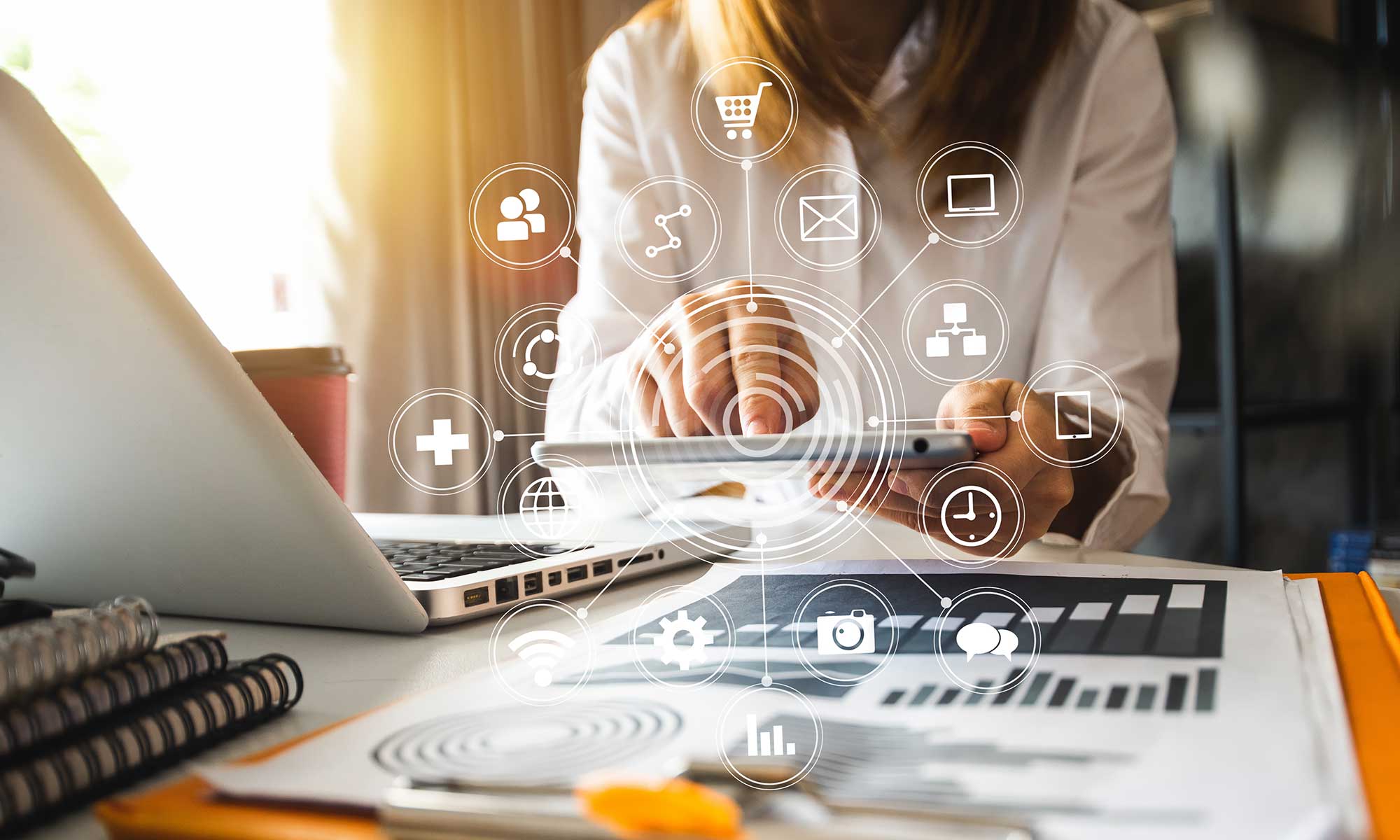 "The future of Sales & Marketing is about NOW"
- David Cancel | CEO Drift
Chatbots with Drift
The typical approach to qualifying leads takes days with marketing automation and lead nurturing emails. According to a Harvard Business Review study, companies need to respond within five minutes of the initial contact to have the best chance of qualifying a lead. Wait longer and your chance of qualifying the lead drops significantly.
With conversational marketing, bots are available 24/7 for you and your visitors to connect instantly. Chatbot platforms, can understand what kind of leads are visiting your pages and what they want. So new leads can be qualified in real time, rather than forcing them to wait for follow-up emails. And known leads can be addressed personally and enjoy a completely different level of support.
Help yourself and your visitors by letting bots ask qualifying questions. Build your bot with similar questions that you already ask in form fields or on initial qualifying calls. The bot will then have a conversation with the lead so that you or the bot understands them better. This will help you recommend next steps for the person to engage with your company.
This speeds up response time and ensures that interactions with your company are always possible and that they can always reach the right contact person.
Are you ready to increase your sales and revenue with conversational marketing?
Then take this opportunity to start supporting your business in adopting Conversational Marketing NOW.
Even better, bots, when set intelligently, can tell who isn't ready for a sales call or is spam because you can also disqualify visitors, saving your reps valuable time. Whether someone wants to talk to support instead of sales or simply isn't a good fit for your product, drift bots ensure sales spend time with leads who are interested in buying.
We develop intelligent chatbots with the appropriate playbooks so that your company can use conversational marketing profitably.
Conversational Marketing and Sales building blocks (drift)
Chatbots
Create trust and convince your customers immediately with personalized conversations
Interact with website visitors in seconds with specific messages and actions, for each visitor and each page viewed.
Quickly qualify customer interest, share your compelling content, and even set up a meeting with sales. You can do all this with customized playbooks and chatbot software.
Live Chat
Improved customer interaction
Live chat provides your customers and prospects with a much better customer experience while helping you improve your website conversion rates, shorten your sales cycle, engage with more target customers, and ultimately increase your revenue.
Das ist eine Win-Win-Situation. Denn wenn Sie ein besseres Kauferlebnis schaffen - z. B. ein Live-Gespräch anstelle eines Formulars anbieten -, werden Sie tatsächlich ein höheres Engagement Ihrer Käufer feststellen
Video
Chat live and book meetings directly in your sales videos
Interact live with your customers and leads. Start a conversation, answer questions, or schedule an appointment while your recipients watch your sales videos.
With Drift Video Bot, you can even engage viewers and make appointments while you sleep.
Emails
Automatically send email responses to the right people
The powerful Drift email management software automatically separates human email responses from autoresponders. It routes real human responses to the right person to ensure follow-up and increase the number of inquiries.
And it is also able to display new contacts in your target accounts, and automatically update your CRM and MAP to replace outdated contact records with latest information.
Meetings
Automatically qualify and schedule sales calls 24/7 with website visitors
Not everyone has the time to monitor live chat. But that's not a problem, because Drift Meetings can keep up with this for you.
With Drift's custom chatbots, you can automatically qualify visitors, mark the best leads as qualified, and even let them schedule a sales call with the right sales rep - any time of day or night.
ABM Tools
Now you can interact directly with your target customers
Account Based Marketing: Never miss another opportunity to engage with a target customer who is currently visiting your website.
With Drift, you can identify target accounts and provide them with relevant and personalized content and interactions, whether via email, live chat or within chatbot conversations.